Hey, You've Got K-Mail!

K-Mail Volume 2, Number 2
March 30, 2003
Welcome to our Email Newsletter! Your ideas are important to us. If you have any comments
or suggestions for future newsletters, please email me.
This issue of Kmail covers the Florida Relays! This is a HUGE meet, so there is lots of action to talk about!

Twilight at the beautiful Florida Relays!



Our Famous Gator Throwers
with our Coach Judge!



A lot happened during the transition between our indoor and outdoor seasons. First of all, we've been doing what Coach Judge refers to as "active rest." I'm not really sure what that means. I don't remember working out so hard in all my life! Secondly, Coach Judge wants me to get serious about my weight loss program. This is kind of tricky, since you don't want to be messing up your strength levels at the beginning of the outdoor season. But with the help of our awesome nutritionist, Michelle, I should be able to continue to lose weight and stay competitive.
So, in honor of my new program, we have an addition to the traditional Kmail dinner picture!
LEFT: What are these things, you ask?
These are my new friends--RICE CAKES. FAT-FREE rice cakes!

RIGHT: This is REAL Foood!
Pasta with shrimp, lobster, scallops and CHEEEESE! Tomorrow, it's back to RCs!
Hey, if you get hungry enough, rice cakes actually start to look good! At first, it's like eating a styrofoam cup. No, you can't pretend that they're cajun ribeyes! Believe me, I tried! And no, cajun rice cakes just sound SOOOO wrong. But back to the action.....
14 NCAA Regional Qualifying marks!...
New National Record!click: Video EXCLUSIVE to K-Mail Subscribers!
click for : FRAME-BY-FRAME of Candice's Great Throw!
LEFT: Candice Scott Smashes the NCAA Record!!

RIGHT: Karen & Kristen Heaston
Cal State Champs!
& Gators FOREVER!!

The Florida Relays was the first chance many of us had in making the NCAA Regional Qualifying Standards!

So far we Gators have 14 spots in the Regionals already 'locked up'! Here we are in the events we've qualified. Hey, check it out! I'm already qualified in the shot and discus and real close in the hammer! :) Our team has depth!
Shot (13.90)
Discus (45.72)
Hammer (51.30)
Javelin (41.48)
Erin Gilreath
Karen Freberg
Kim Barrett
Dore' DeBartolo
Rachel Longfors
Karen Freberg
Dore' DeBartolo
Candice Scott
Erin Gilreath
Kim Barrett
Merilyn Brown
Dore' DeBartolo
Rachel Longfors
Jukina Dickerson
soon ... real sooon!
| | | | |
| --- | --- | --- | --- |
| Qualified in 3 events! | Qualified in 2 events! | Qualified in 1 event! | |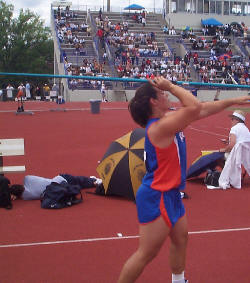 Last but not least, Dore' took sixth in the Collegiate/Open javelin with a toss of 40.59m/133-02, just 3 feet off a Regional Qualifier!
On Day 1, we threw in the Open events. I was really excited to have my first meet ever in the hammer, and my first meet as a collegian in the discus. Some of the girls are throwing in both the collegiate and invitational events.
On Day 2, we threw in the Invitational events in our specialties.

TAKE ME TO: PAGE 2 (shot) ... PAGE 3 (discus)... PAGE 4 (hammer)
Back to My Florida Teammate's Page