Hey,

You've

Got K-Mail!


♪SUM..♪SUM...
SUMMER-Time!♪

K-Mail Volume 2, Number 11
June 8, 2003

CLICK: Florida WebCam!



Welcome to my Email Newsletter! Your ideas are important to me.
If you have any comments or suggestions for future newsletters, please email me.
Well, it really isn't summer time yet, but with only two more meets I know that many of you are thinking ahead! So, I decided to put up my 'Summer Edition' K-Mail header, as we all prepare for the great days of summer! ... but first we GATORS have a lot of work to do!

Before we preview the NCAAs for you, here are some more great honors and awards for Florida T&F!

NEW!! U.S.T.C.A.'s Men's &
Women's "Coach of the Year!"
MEN

EAST - Mike Holloway (Florida)

MIDEAST - John McDonnell (Arkansas)

MIDWEST - Phil Lundin (Minnesota)

WEST - Art Venegas (UCLA)

WOMEN

EAST - Tom Jones (Florida)

MIDEAST - Pat Henry (LSU)

MIDWEST - Gary Pepin (Nebraska)

WEST - Jeannette Bolden (UCLA)
Did you notice that of the 8 regional coaches of the year, 4 were from the SEC Conference? Tom Jones (Florida), Mike Holloway (Florida), John McDonnell (Arkansas) and Pat Henry (LSU) have certainly brought pride to their institutions and the SEC!

Just IN! Coach Judge was selected as "Assistant Coach of the Year" by the USTCA.
Link to Gatorzone Article!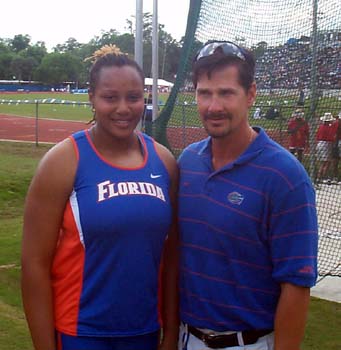 2003 NCAA Preview .... Throwing Caution to the Wind!
♪♫ California, Here We Come! ♪♫
Before hitting that beach, we have the NCAA's in Sacramento and the USATF Sr. Nationals in Palo Alto to work toward! So let me highlight how things stack up in that little meet in California's capital!
There's a lot of tough competition ahead for those who want to earn the 'All American' recognition! Getting into that elite top 8 isn't as easy as it once was... and making it as an outdoor 'All American' can be a real challenge!

The descending order lists below says that the Gators could win a total of 23 points in the throws! Well... we'll see if we can beat those odds! :) By the way, 'IRONWOMAN' Dore' DeBartolo is competing in three events... shot ,discus and hammer! I'm pretty sure she's the only one to do that in the throws this year.
NCAA WOMEN'S SHOT PUT!
Karen:) , Candice, Kim, Dore' & Erin

Gator Shot Putters!
Chomp!
Chomp!
Chomp!
2002 CHAMPION: Jessica Cosby, UCLA sophomore - Last year, she did what she does so often, throw the big unexpected throw to win the 2002 outdoors at 57' 1/4."

Today is full of new challenges. Not only does Jessica have her hands full with out-of-state competitors, but look at some of the 'old California friends' she gets to face again!

Jill Camarena -- California State Champ in 1999
Stephanie Brown -- California State Champion in 1998 & 1996
Karen:) -- California State Champion in 2001 & 2000 (Jessica was runner-up in 2000)

There are plenty of other girls who could have the 'hot hand' at any time, and I am not counting out my teammates ... tough, competitive and always ready to rumble!

Event 37 Women Shot Put ** Qual: 13.90 **
RANK ATHLETE YR SCHOOL SEED MARK RG DATE
==== ======================= == ======================= ==
1 Laura Gerraughty SO North Carolin 18.82m E 05-10 AQ
2 Becky Breisch SO Nebraska 17.70m MW 05-03 AQ
3 Stephanie Brown SR Cal Poly-SLO 17.30m W 5-30 AQ
4 Jillian Camarena JR Stanford 17.03m W 04-18 AQ
5 Karen Freberg FR Florida 17.01m E 05-18 AQ
6 Jessica Cosby SO UCLA 16.96m W 05-17 AQ
7 Rebekah Green SR Kansas St. 16.90m MW 05-03 AQ
8 Candice Scott SO Florida 16.74m E 05-18 AQ
9 Kim Barrett SO Florida 16.66m E 04-12 AQ
10 L'Orangerie Crawford JR USC 16.62m W 3-22 AQ
11 April Phillips SR Michigan 16.43m ME 04-26 AQ
12 Chandra Brewer SO S. Florida 16.38m E 05-03 AQ
13 Janae Strickland JR Missouri 16.37m ME 05-03 AQ
14 Eliese Mitchell SR Virginia 16.16m E 04-19
15 Leann Boerema SR Nebraska 16.10m MW 04-05 AQ
16 Erin Gilreath SR Florida 16.04m E 05-04
17 Kelli Burton FR Utah State 16.00m W 04-26
18 Briona Reynolds SO UCLA 15.96m W 04-05 AQ
19 Melissa Bickett JR Michigan 15.95m ME 05-17 AQ
20 Adrienne Moss SR Miami 15.88m E 04-12
21 Dore' DeBartolo SR Florida 15.86m E 05-18
22 Aubrey Martin FR W. Illinois 15.85m ME 05-03
23 Ja'Nai O'Connor JR Penn St. 15.85m E 04-12
24 Amarachi Ukabam FR Ohio State 15.71m ME 5-30 AQ
25 Tawanna Williams JR LA Tech 15.65m ME 5-30 AQ
26 Abby Ruston FR Texas A&M 15.64m MW 5-30 AQ
27 Keela Niemeyer JR Colorado St. 15.29m MW 05-30 AQ
Who will win? Who will become All-Americans? With 5 Gators in this event... we'll be working hard!

Take me to:
Page 2 --- NCAA Discus Preview!
Page 3 .... NCAA Hammer Preview!
Page 4 .... NCAA Gator GOODIES!!! WOW!


Animation © Karla Freberg 2003
(if you want to copy Karla's animations, just say where you got them!)