K-Mail Volume 1, Number 4
January 25, 2003

Hey, You've Got K-Mail!
Some play in the Snow... Some play in the Sun!
5 Lady Gator Throwers competed in Kentucky...
Welcome to our Email Newsletter! Your ideas are important to us. If you have any comments or suggestions for future newsletters, please email me.
This edition of K-Mail covers the results of the SEC Challenge East, held at the University of Kentucky. Overall, the Lady Gator team took second with 127 points. This was pretty amazing, since Jukina, Merilyn, Kim, Candice, and I stayed home. Hmmm, let's see....it was actually pretty cold here in Florida, but it was REALLY cold in Kentucky. In fact, they're expecting more snow tomorrow.

Some of the Lady Gator throwers with NCAA automatic marks stayed home, working hard! Really, Coach...we did!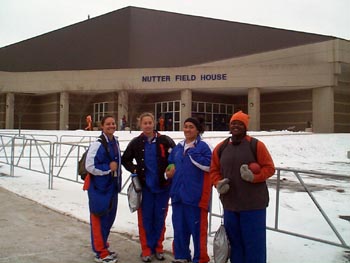 Dore', Erin, Scarlett, and Quanda get ready to
throw at Nutter Field House. What's that white stuff?
Dore', Erin, Scarlett, Quanda, and Rachel represented our team very well. Here's how they did:
Shot:
2. Dore' 52'0.25" (a provisional NCAA qualifying mark and new PR)
3. Quanda 49'7.75"
7. Erin 47'3.50"
9. Scarlett 44'6.75"
Weight:
1. Erin 66'2.5" (another automatic NCAA qualifying mark and new PR)
2. Quanda 63'4.0"
5. Rachel 56'11.25"
9. Scarlett 55'2.0"
11. Dore' 54'9.25"
Here are some action shots taken during the weight throw:
| | |
| --- | --- |
| NCAA Auto Qualifier Quanda lets loose a big throw! | Dore' winds up. |
Competition in the shot was intense!

Quanda warms up in the shot.
The team enjoys their 2nd place finish!

Coach Judge with Rachel, Quanda,
Scarlett and Dore'


We're proud of our team!
Don't we look good in our NEW warm-ups?
For complete results of the meet, go to the Gatorzone.
Next Up!

The Lady Gators will be in action at the Carolina Fast Times meet at the University of North Carolina, Chapel Hill on February 1!
And let us know if you have any suggestions for the newsletter!
Bye for now!! J Thanks for supporting the Florida Throwers!
Did you miss an issue of K-Mail? Here is our newsletter archive.