K-Mail Volume 1, Number 5
February 2, 2003

Hey, You've Got K-Mail!
The Adventures of the Lady Gators at the Carolina Fast Times!
Welcome to our Email Newsletter! Your ideas are important to us. If you have any comments or suggestions for future newsletters, please email me.
This edition of K-Mail covers the results of the Carolina Fast Times meet, held at the University of North Carolina on Saturday, Feb 1.
The cookies say:

Go U.F. ! &

Beat U.N.C. !
I'm not supposed to be corrupting my teammates with my infamous chocolate chip cookies (my Dad used to work for Nestle' so we know a few cookie tricks at our house). But I thought everybody needed a little inspiration! In case you can't read the cookies, the plate on the left says "Beat UNC" and the one on the right says, "Go UF." They sort of magically disappeared from the weightroom once everybody found out I made them and they weren't some sort of joke cookies from the guys!
Sshhhhhh! Dr. Judge thinks we live on Fiji Water® and Power Bars! ha!
We had a lot of traveling to do on Friday. We took vans to Jacksonville, then flew to Atlanta, then to North Carolina. Coach Judge never misses an opportunity for us to "warm up," so we ended up throwing the weight in the parking lot of our hotel. Unfortunately, a power transformer just happened to jump in the way of one of Jukina's world class throws.....let's just say the sparks were pretty cool! The power went out in Chapel Hill? We don't know anything about that!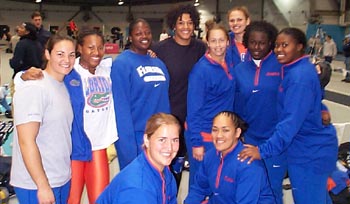 One of the big highlights for us was to visit with the great Dawn Ellerbe (and throw with her, too!). Here's Dawn (Coach Judge's athlete at USC) with us (his current bunch).
The competition was intense!
| | |
| --- | --- |
| Here's Merilyn getting ready in the shot. | The sector just seemed pretty narrow to me. |
Here's how we did in the weight. First of all, there were 2 flights in the weight, an invitational and a collegiate, but they weren't divided by marks. I think they just didn't want the whole invitational flight to be Dawn and Florida or something. We heard through the "grapevine" that Coach Blutreich was REALLY unhappy about my dad's comment on the Ring about how the Kent State meet should be called "the Florida Relays." Oops. Hey, that's just my dad.
Two of our "collegiate" girls did better than the bottom two girls in the invitational, so I'm just going to combine them. So we had the top collegiate thrower (Erin), 7 out of the top 11 marks overall, and 7 out of the top 10 collegiate marks. Not a bad day's work!
1. Dawn Ellerbe
2. Erin Gilreath
3. Amber Campbell
4. Jukina Dickerson
5. Kim Barrett
6. Laura Gerraughty
7. Quanda Cotten
8. Merilyn Brown
9. Dore DeBartolo
10. Ibiene Bilaye-Benibo
11. Rachel Longfors
14. Scarlett Ekeroma
19. Karen Freberg
NYAC
Florida
Unattached
Florida
Florida
UNC
Florida
Florida
Florida
UNC
Florida
Florida
Florida
22.20m/72-10.00
20.80m/68-03.00 PR!
20.36m/66-09.75
20.35m/66-9.25 (Ouch! 1/2 inch!)
19.99m/65-07.00
19.74m/64-09.25
18.98m/62-03.24
18.83m/61-09.50
18.30m/60-0050
18.09m/59-04.24
17.87m/58-07.50
16.61m/54-06.00
15.86m/52-00.50.....oooops!

You know you're not having a great day when you throw the shot farther than the weight! What can I say? My only legal throw was the first one, and then I tweaked my right elbow again--I'd hurt it before Christmas. I thought about not taking the rest of my throws, because I knew the team was counting on me in the shot, but I thought it was worth a try. A little ice and it was on to the shot!
Here are the shot results:
1. Laura Gerraughty
2. Karen Freberg
3. Nicole Kendrick
4. Dore' DeBartolo
5. Quanda Cotten
6. Erin Gilreath
7. Jukina Dickerson
8. Merilyn Brown
9. Ibiene Bilaye-Benibo
10. Kim Barrett
12. Scarlett Ekeroma
UNC
Florida
USC
Florida
Florida
Florida
Florida
Florida
UNC
Florida
Florida
17.06m/55-11.75
16.15m/53-00.00
15.42m/50-07.25
14.86m/48-09.00
14.68m/48-02.00
14.37m/47-01.75
14.36m/47.01.50 (.o1m behind!)
14.29m/46-10.75
14.23m/46-08.25
14.03m/46-00.50
13.66m/44-09.75
Once again, I seemed to be having foul trouble in the shot--not usually a problem for me--with only 2 legal throws. I really didn't like the 53 at all, but I guess it feels pretty good to be disappointed with a 53.
Well... I have lost roughly 40 lbs since the beginning of the school year... and I am having some trouble learning to deal with all the speed... but I am getting better!

Here we are in the UNC weightroom.
We're homesick!


Florida's NCAA Automatic Qualifiers so far:
Quanda, Kim, Erin, Jukina, and Karen
Coach Judge had threatened to take us bowling after the meet....I'm glad we didn't have time....bowling is not my best sport...don't ask about my PR! Instead, we went in search of food at the Boston Market. After all, we're throwers! I was a good girl, though, and passed on the ice cream. Dore' and Kim skipped the ice cream, too, so I wasn't alone!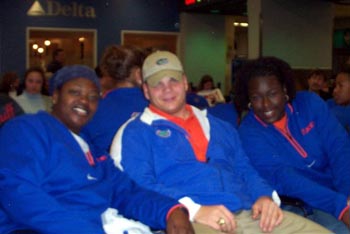 Here's a lively looking group...hey what do you expect when you have to leave your hotel at 6:15 a.m. to catch a plane? Can't complain....most schools travel by van!
.
That's about all for now! Thanks for listening!
Karen:)
For complete results of the meet, go to the Gatorzone.
Next Up!

The Lady Gators will be in action at the Gator Invitational at home in Gainesville on February 9!
And let us know if you have any suggestions for the newsletter!
Bye for now!! Thanks for supporting the Florida Throwers!
Did you miss an issue of K-Mail? Here is our newsletter archive.


Click here for more information about our mailing list.