Hey, You've Got K-Mail!

K-Mail Volume 1, Number 11
March 17, 2003
Welcome to our Email Newsletter! Your ideas are important to us. If you have any comments
or suggestions for future newsletters, please email me.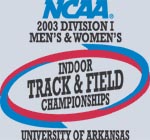 This is going to be a mega-kmail, because we're covering the NCAA Indoor Championships!
The Lady Gators came in tied for second with South Carolina with 44 points (36 points were from the throwers, but more on that later)! We took 5th (Kim) and 7th (Karen) in the shot, and totally dominated the weight throw (1,2,4,5,and 6)!

The results speak for themselves! Congratulations everyone, but especially to Coach Judge! He helped us reach our dreams!

Coach Judge and the All-American throwers
with Florida's 2nd place trophy.
In the Weight... we took 1st (Erin), 2nd (Jukina), 4th (Quanda), 5th (Kim) and 6th (Merilyn).

To put this in perspective, we took 36 points out of 78 possible (46%) in the two throwing events.

Out of 16 All-America slots in the throws, we took home 7 (44%).


Okay, here's something you won't see
everyday....Coach promised that if he had
six All-Americans (actually there are 7--Kim
is All-American in both events), that he'd
eat this Marketplace dessert called
a "Chocolate Mess." Hey, it's only worth
5 hours on the Stairmaster, Coach!


Coach Judge and the Shot Put All-Americans:
Karen (7th) and Kim (5th)

Page 2: The Shot Put! Page 3: The Weight Throw Page 4: Join our celebration!