K-Mail Volume 1, Number 1
December 8, 2002

Hey, You've Got K-Mail!
Welcome to our very first Email Newsletter! Your ideas are important to us. If you have any comments or suggestions for future newsletters, please email me.
This week's edition of K-Mail covers the Florida Throwers' very first indoor meet of the 2002-2003 season! We traveled up to Akron, Ohio for the Golden Flash Gala at Kent State. The weight throw took place on Friday, December 6, and the shot put took place on Saturday, December 7. It was a great meet!
| | |
| --- | --- |
| Eight Lady Gators traveled to Akron! | We're taking over the place.... |
Traveling from Sun to Snow!
Eight of us headed out early Thursday morning to drive to Jacksonville: Kim, Merilyn, LaQuanda, Jukina, Scarlett, Karen, Erin, and Rachel made the trip, while Candice, Dore', Sara, and Jyn stayed warm at home. From Jacksonville, we flew to Cincinnati, and then took another flight to Akron. There was a bunch of snow on the ground left over from the big storm that passed by the day before….BRRRRRRRRRR! What is this stuff? And temperatures in the teens? We don't get that too much either at Florida or at home in California. At least we had a whole bunch of new warm gear. I've never been to Ohio before. One of the great things about being in athletics is getting to see new places.

Karen, Quanda, and Rachel check out the snow!


Rachel, from Minnesota, is our resident
snow angel expert!
Florida Dominates in the Weight!
Friday afternoon, 39 women competed in the weight throw. Of the top ten attached competitors, 7 were from Florida! We took 2nd, 4th, 5th, 6th, 8th, 9th, and 12th.
Jukina and Erin scored automatic NCAA qualifiers, with Erin posting a nearly 4 foot improvement on last year's PR. This is a terrific way to start the season! Kim and Merilyn followed with provisional NCAA qualifiers, and Merilyn's mark was a PR for her, too. You go, girls!
Me? Well, I'd hoped to do better, but honestly, I felt a little nervous about competing in my first meet in such a new event. After all, I've been throwing shot and discus since the 7th grade, and the weight a whole 3 months or so. My first throw was a foul, followed up with a 15.43m and a 15.53m. I didn't make the finals. L I'm sure Coach Judge will have some suggestions this week in practice for improvement! It will go up from here, especially after I get to move from doing 2-turns to doing 3-turns. It still was great to be back in competition—I've been off for almost 10 months!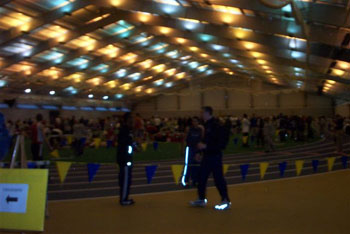 Okay, down to business now in the Kent State Fieldhouse.
The Shot!
Saturday's shot was hot! Our biggest competition was expected to come from Ashland's Adriane Blewitt, who had a PR outdoors last year of 17.18m/56'3". Sure enough, Adriane won the event on her last throw of 57'8.5." There was a lot of competitive stuff going on out there among the women….people try to beat you before anyone steps in the ring….and it helps to have so many great teammates around to support you.
Florida made a great showing…all six competitors placed in the top ten (out of over 40 in the event). We took 2nd, 3rd, 5th, 6th, 9th, and 10th. Yeah, we dominated! One guy posted a note on the Ring saying, "I am surprised that anyone could throw good with Florida there. They sound so awesome, that I figure everyone else takes there (sic) shot and goes home." Yeah, that's us all right!
Merilyn and I got PRs, and Kim and I were both provisional NCAA qualifiers. I missed the automatic mark by two whole centimeters with a 16.38m (53'9") to take second. Shades of missing the national high school record by ¼ inch. But there's a lot of season out ahead of us. Since Adriane throws in Division II, I think I'm probably leading the NCAA Div I right now! It'll be fun while it lasts, and I'm going to do my best to make it last!
My best throw came on the last throw of the competition, something I generally don't do…a lot of credit goes to Coach Judge for his "motivation" from the sidelines! J Like, "we didn't come this far for you to throw that." Hey, he was exactly right and it worked! I was pretty happy with my series…it was consistent. And after I've been consistent for awhile, good things happen. Here's the series: 15.47m 16.16m 16.27m 15.70m 16.16m 16.38m. Well, the 15.47 wasn't so hot, but I didn't feel very warmed up. I actually thought I was warming up too much. I've lost a bunch of weight this year, and I'm still getting used to the change. I'm really anxious to take a look at those films and see what was going wrong (and hopefully a little right).
After the meet, we had another experience that was new to me…we had a lifting workout! After all the excitement of my first meet as a Gator, I could only lift 135 in the bench! Yikes! We celebrated the meet (2 auto qualifiers, 4 provisionals, 5 PRs) with dinner at a pizza restaurant. I had suggested sushi or something healthy, but was seriously outvoted. That was the first pizza I'd had in months! Don't tell our nutritionist!
| | |
| --- | --- |
| Scarlett and Karen are happy with the shot results. | Throwers need food! |
The Meet!
It was a great opener for Florida in general. My roommate, Dara, got 6th in the pole vault with an awesome PR of 11'6". In addition to the throwers, we had a lot of 1st and 2nd places, meet records, and fieldhouse records. It's going to be an awesome year! For the whole story, go to gatorzone.
We ran into a lot of old friends at the meet. Steve Manz from MSU stopped by to say hi, along with coaches from Buffalo and Akron. All the support from the crowd was great!

Rachel and Scarlett unwind with a little b-ball.


Throwers take time out for line dancing
lessons from Erin Stern....
Home Again!
This time, we flew from Cincinnati to Atlanta, and from Atlanta to Jacksonville. I tried to study for my Bugs final scheduled for Monday morning (yes, I'm taking a class on bugs…a useful subject in Florida). Now I can identify the things that get squished by the discus. Somehow, I just wasn't in the mood for studying bugs!
I'll be posting more pictures on the website….the ones in the newsletter were taken with my digital camera, but I have a disposable camera to be developed between finals, too. A lot of my teammates brought cameras, so we'll be posting their pictures as soon as they get them to me.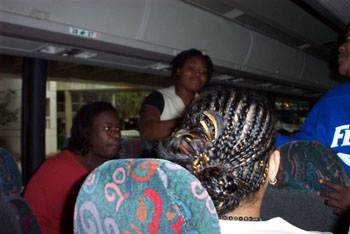 Kicking back on the bus ride from Jacksonville.
Complete Florida Throwers' Marks from the Golden Flash Gala
Next Up!
The Lady Gators will be in action after the first of the year at home on January 18th for the Florida Intercollegiate meet. Stay tuned!
A Special Feature for Kmail Subscribers Only!
For more pictures from the Golden Flash Gala that are not available on the public website, click here ! More pictures will be added to this site as soon as I finish my Bugs final!
And let us know if you have any suggestions for the newsletter! Bye for now!! J Thanks for supporting the Florida Throwers!
If a friend emailed you this page, and you'd like to sign up for your own, click on the button.